Bank Tranfer UK - Payment £ (pounds)

London Ancient Coins Ltd
HSBC: Sort Code 40-05-31 - Account number 01518240 IBAN GB35MIDL40053101518240 Swift/ BIC MIDLGB22
Barclays: Sort Code 20-79-73 - Account number 43874001 IBAN GB41BARC20797343874001 Swift/BIC BARCGB22

Payment EURO
London Ancient Coins Ltd
Barclays: IBAN GB98BARC20797377595122 Swift/BIC BARCGB22

Paypal londonancientcoins@gmail.com + 3.9%
Salonina. Augusta, AD 254-268. AR Antoninianus. Colonia Agrippinensis (Cologne) R/ VESTA
Item no. 19079 (LAC)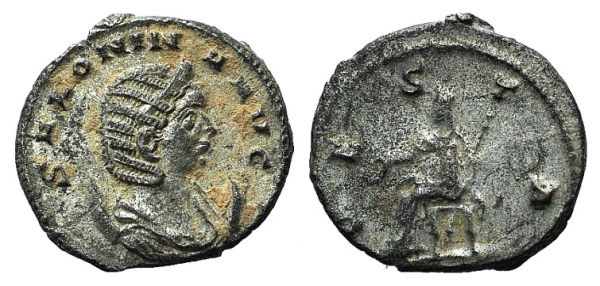 Salonina.
Augusta, AD 254-268. AR Antoninianus (21mm, 3.44 g, 12h). Colonia Agrippinensis (Cologne) mint. 1st emission, AD 257-258. Draped bust right, wearing stephane, set on crescent / Vesta seated left, holding transverse scepter and palladium. RIC V 70; MIR 36, 900c; RSC 142. VF
Price £ 35
Other items on sale
Do you need help? Contact us now!
Shipping
The shipments is
made
by
post
with
Royal Mail
insured for the full
amount
.