Bank Tranfer UK - Payment £ (pounds)

London Ancient Coins Ltd
HSBC: Sort Code 40-05-31 - Account number 01518240 IBAN GB35MIDL40053101518240 Swift/ BIC MIDLGB22
Barclays: Sort Code 20-79-73 - Account number 43874001 IBAN GB41BARC20797343874001 Swift/BIC BARCGB22

Payment EURO
London Ancient Coins Ltd
Barclays: IBAN GB98BARC20797377595122 Swift/BIC BARCGB22

Paypal londonancientcoins@gmail.com + 3.9%
Hostilian. As Caesar, 250-251. AE Sestertius R/ PRINCIPI IVVENTVVTIS
Item no. 19494 (LAC)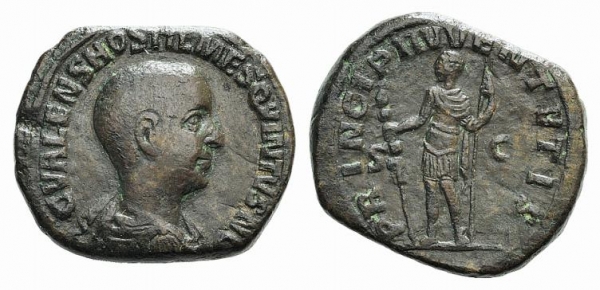 Hostilian. As Caesar, 250-251. Sestertius (30mm; 18.28 g). C VALENS HOSTIL MES QVINTVS N C Bare-headed and draped bust of Hostilian to right. R/ PRINCIPI IVVENTVVTIS S C Hostilian standing left in military dress, holding standard in his right hand and reversed spear in his left. Cohen 35. RIC 216a. Rare. Struck on a full flan.VF, smoothed and tooled.

Hostilian was the younger son of Trajan Decius and stayed in Rome when his father and older brother went off on their ill-fated expedition against the Goths. After their deaths the field army acclaimed Trebonianus Gallus as emperor, but in a laudable attempt to avoid civil strife he immediately recognized Hostilian as his co-emperor. However, later in the year Hostilian fell ill and died from the plague. The coin was struck earlier, while he was only Caesar under his father.
SK1332
Price £ 150
Other items on sale
Do you need help? Contact us now!
Shipping
The shipments is
made
by
post
with
Royal Mail
insured for the full
amount
.